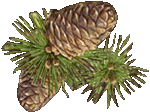 Cedar barrel
Phytosauna is one of the ancient methods of restoring the body through a couple of different herbs.
The humidity in the phytobarrel is 100% (in the Russian bath 50-60%, in the Finnish sauna - 5-10%);
You can set any temperature;
Steam is evenly distributed throughout the space;
There is no load on the vessels of the head and organs of the respiratory system.
During the procedure, a person sits in a specially prepared cedar barrel - "Swedan", while the head is outside and not heated. The herb rich with healing herbs penetrates through the open purified pores, and the active bio compounds are absorbed into the body. This normalizes the work of all organs and systems of the body, fatigue disappears. Intense sweating relieves kidney load and maintains water balance. During sessions in the phytosauna, the skin functions are activated, lymphocirculation is improved, the epidermis is updated. The herbs used in steam generation are an indispensable source of essential oils and volatiles that eliminate the manifestation of colds.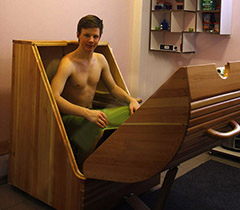 The main advantage of Cedar Barrel is that at high temperatures, the mini-sauna retains for humans all the biologically active substances of cedar wood and the beneficial properties of herbs used during the session. Most of these substances warm skin is able to absorb through the pores. Phytoncides released by cedar wood are excellent antiseptics, they kill most harmful microorganisms. Positive effects on the nervous, cardiovascular system are noted after the first procedures.
This Ayurvedic procedure combines the basic principles of Indian body care techniques, provides a powerful immunomodulatory charge, promotes sound sleep, and restores the nervous system. After the phytosauna we suggest rubbing special oils or supplementing the procedure with a massage session.
Regular use of the Cedar barrel with the use of rubbing oils has an impressive rejuvenating, cosmetic and anti-cellulite effect, the skin becomes supple and supple. The procedure promotes active weight loss in both women and men. For a lasting healing effect, it is advisable to carry out the procedure every other day, and for the sake of health, we invite you to visit it once a week.

For maximum pleasure and relaxation, you are offered herbal tea with honey. The cedar barrel at Anatoliy Gonta Center in Khmelnytskyi is the key to your body's health and wellness for many days.
See cedar barrel price